Guest

Guest

on Tue May 10, 2011 4:06 pm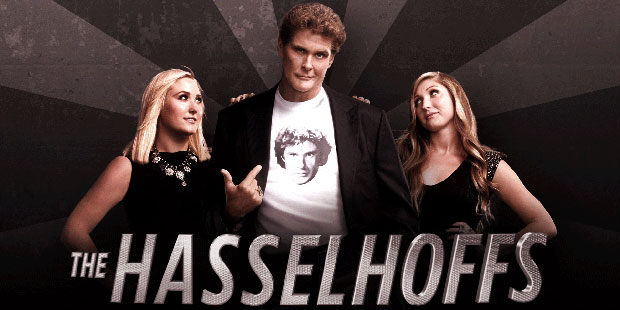 The Hasselhoffs
spotlights the life of single dad David Hasselhoff and his two daughters Taylor Ann and Hayley.
The series brings viewers inside the household of David Hasselhoff where "The Hoff" is just Dad and examines the challenges he faces as a single parent raising two young adult daughters.
Despite juggling his multiple entertainment and business endeavours, he is the ultimate 'stage dad' and will do anything to help guide his daughters' decisions as they pursue their famous careers.
Starts
Monday 30 May at 7pm
and continues
Monday nights at 7pm
on the Biography(Bio) channel on sky – 156 and virgin – 242
Marina and myself were interviewed at the Vegas festival and I hope that we made it to the final edit lol, Paul Caseys show was on the show
Scorce dhasselhoff.net
Guest

Guest

on Wed May 11, 2011 12:55 am
Episode #6 (the final episode?) - "The HoffFather" has KOTWC and you two from KRF II in it from what I've been told and probably Nate of SCC too via the Pink's segment.

"David enjoys a supreme honor, when Pink's Hot Dogs adds a David Hasselhoff hot dog to the menu. But the naming ceremony almost turns into a disaster, when Taylor makes the mistake of booking the event on the same day as a Knight Rider convention in Vegas. With a charity tied into the event, David must pull off the impossible to save Taylor from disgrace."

It's great that David actually got someone to pick it up. It's a shame to put all that effort into something like that and never get to share it. I actually liked the show, corny and scripted as it was. It was a welcomed relief from the serious nature of modern day reality tv show programming.

=VK=

on Mon May 30, 2011 1:41 pm
*Biting nails* if anyone wants an autograph after the show Steve and I will be signing them at KnightCon 2011

LOL I'm happy I won't get to see it because I look like crap on TV hahahaha
Guest

Guest

on Mon Jun 06, 2011 8:22 pm
OK it was the KRF footage, we didnt make the interview but the camera captured me talking to David before he grabbed marina and me and took us up to the vip party

how cool is that!
Guest

Guest

on Tue Jun 07, 2011 12:27 am
So is this only availible to watch in the UK or is there a way to see it in the US?

=VK=

Guest

Guest

on Tue Jun 07, 2011 10:41 am
i dont think it will never be shown in the USA, but i know Rob has recorded them all and putting them onto disc for some friends in the US
on Tue Jun 07, 2011 3:18 pm
Oh how it Rocks to be in the UK.
Guest

Guest

on Wed Jun 15, 2011 8:33 am
I uploaded it to videos, so Paul Casey could see it while his disc Rob O did him hits his Vegas mailbox, whilst i was in bed the link has exploded all over the internet LOL.he has some great press because of this and its great you can see faces in the crowd that you recognise
http://vimeo.com/25102270

Permissions in this forum:
You
cannot
reply to topics in this forum