Guest

Guest

on Tue Nov 01, 2011 9:05 pm
just seen this article and it got me thinking, can they actually do a movie now about the unsung hero stuntman, are there any now? it seems to be all CGI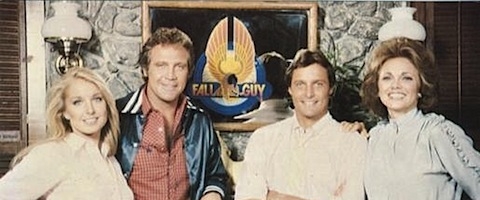 Continuing Hollywood's rummaging through its own attic in search of the next big hit, we may soon see a big-screen adaptation of Glen Larson's 1981 TV series The Fall Guy. What's to say about The Fall Guy if it was before your time? Well, Lee Majors played a stuntman who moonlighted as a bounty hunter. This is because everyone on television during the '80s was legally required to solve crimes, regardless of their day job. When not busy dying for a living in the movies and TV, Fall Guy Colt Seavers has been seen with Farrah, although he doesn't like to kiss and tell. He was also once on fire with Sally Field, he blew up for Raquel Welch, and he frequently made Eastwood look "so fine." If you have no idea what the hell I'm talking about, watch the following video and enjoy having that rattling around in your head for the next few days.
https://youtu.be/jTRKqeEYXMg
While The Fall Guy has been in development for a while now, it may finally get fast-tracked because Deadline says director Martin Campbell is interested and in early discussions to helm the movie. While Campbell's last film was Green Lantern, let's remember that he also directed Casino Royale and Goldeneye. If we have to have a Fall Guy movie, at least Campbell is a solid choice. It's also being scripted by Ashley Miller and Zack Stentz, who showed with this year's Thor and X-Men: First Class that they can do popcorn entertainment well.
Really, my biggest reservation here is the inevitably crappy hip-hop cover of the theme song that you just know will show up on the soundtrack.
Tony Westwood

Posts

: 1140


Join date

: 2010-01-18


Age

: 55


Location

: Dover, Kent

on Wed Nov 02, 2011 8:09 pm
No, definetly
NOT
before
MY
time Steve...
I loved the show so much I built the truck

...
[You must be registered and logged in to see this image.]
[You must be registered and logged in to see this image.]

Permissions in this forum:
You
cannot
reply to topics in this forum